ULTRA Brasil Unveils Full Lineup

TALE OF US AND MORE ADDED TO ULTRA BRASIL FINAL LINEUP
MTV ANNOUNCES BROADCAST PARTNERSHIP WITH ULTRA WORLDWIDE, ULTRA BRASIL TO AIR ACROSS PRIMETIME TELEVISION
RESISTANCE BRASIL ANNOUNCED
Tale of Us, the legendary Italian techno aficionados, have been added to ULTRA Brasil's already stacked RESISTANCE roster, and are the last headliner to top the debut edition's final lineup. With worldwide superstar DJs Martin Garrix, Carl Cox, Above & Beyond, DJ Snake and many more, slated to play over the massive two day festival in Rio de Janeiro, the weekend will undoubtedly bear witness to some incredible performances.
RESISTANCE, the newest concept created by ULTRA Worldwide, will be set across both days of the festival, October 14-15, showcasing some of the finest house and techno on the planet. Joining the ranks of Carl Cox, Nic Fanciulli, Nicole Moudaber, Hot Since 82 and more, will be Berlin based DJs Tale of Us, whose blend of swooning house and techno will surely bring crowds in numbers. ULTRA Brasil has invited some of the finest up and coming talent from Brazil and around world to showcase their take on the underground including Elio Riso, Jon Rundell, Renato Cohen, Renato Ratier, RioTGeaR, Rod B, and Sandro Bianchi.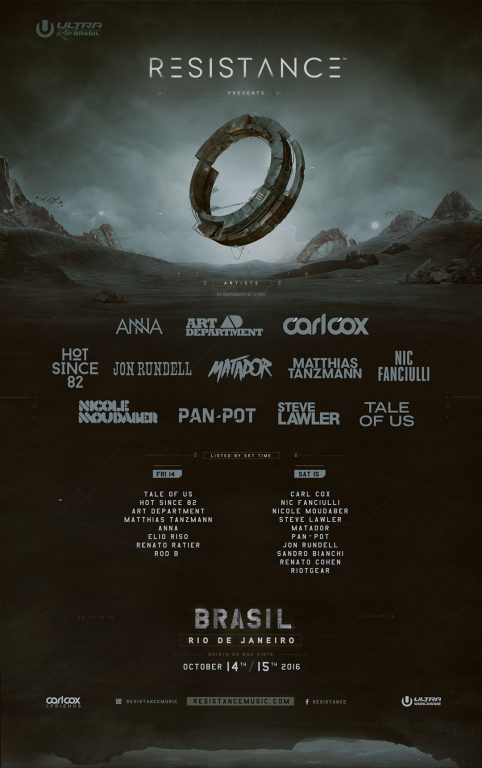 Tickets for this historic event are selling at rapid speed, so be sure to grab the remaining few while they're still available via ultrabrasil.com/tickets.
MTV Latin America has announced a partnership with the world's most independent festival brand, ULTRA Worldwide™, to broadcast and live stream the upcoming edition of ULTRA Brasil, set to take place for the first time in Rio de Janeiro on October 14 & 15, 2016.
MTV will host the two-day live stream on its digital platforms in Latin America and Brazil and will also produce and broadcast primetime specials live from ULTRA Brasil on both days. The event will be available to more than 50 million households in 26 countries across Latin America and Brazil, and marks the first time an ULTRA Worldwide™ event will be televised live across the continent.
"Electronic music is an essential part of our audience's lives and MTV's core values include bringing artists and fans closer together, so this partnership felt natural from the beginning, said Tiago Worcman, Senior Vice-President and Brand Manager for MTV Latin America and Brazil. "MTV will create curated content and also serve as a mirror to give the opportunity to millions of passionate fans to experience the festival in a very unique way".
Executive Producer, President and CEO of ULTRA Worldwide, Russell Faibisch added:
"Brazil is a country that is extremely close to my heart. It's where the ULTRA Worldwide brand was originally conceived back in 2006 and I'm very excited to be returning – this time to the beautiful city of Rio de Janeiro. Partnering with MTV makes complete sense, as we'll be able to showcase ULTRA Brasil to millions of fans across Latin America. We can't wait for everybody to see what we have in store."
Leading up to the festival, MTV will fuel the audience with an entire week of exclusive programming including special reports via MTV News, countdowns, daily EDM-themed MTV Hits, and more to be announced at a later date.
With events in almost every corner of the world and still expanding, ULTRA Brasil is the twentieth destination of ULTRA Worldwide™. The highly anticipated event will be headlined by electronic music powerhouses including Martin Garrix, Carl Cox, Above & Beyond, Hardwell and DJ Snake, among others.
ABOUT ULTRA WORLDWIDE™
ULTRA WORLDWIDE™ IS THE GLOBAL EDITION OF THE WORLD'S PREMIER ELECTRONIC MUSIC EVENT, ULTRA MUSIC FESTIVAL®.
The ULTRA brand in relation to live events was founded in 1997 in Miami by Executive Producer, President & CEO, Russell Faibisch, who began by producing electronic music events which led to the inaugural Ultra Music Festival® in 1999 on the sands of Miami Beach.
The internationally renowned festival, which has taken place every March since its inception, celebrated its eighteenth anniversary on March 18-20, 2016 by bringing over 165,000 music enthusiasts to the sold out waterfront event in the heart of the City of Miami. Ultra Music Festival®, recently voted the world's #1 Festival by DJ Mag, returns to Bayfront Park for its nineteenth annual edition on March 24-26, 2017.
Choosing to follow a unique and creative vision and a wholly organic growth focused on its true love for music, artists and fans alike, the ULTRA and ULTRA Worldwide™ brands represent not only the world's biggest and most successful remaining INDEPENDENT electronic music festival brand, but also the most international festival brand in the world. Event organizers continue to transport the unrivaled experience from the Miami flagship festival to an ever-growing number of destinations and Ultranauts all over the globe.
Over the past eighteen years, thousands of the world's most iconic DJs, producers and live acts have mesmerized audiences with awe-inspiring sets at ULTRA festivals in ARGENTINA, BALI, BRAZIL, CHILE, CROATIA, IBIZA, JAPAN, KOREA, SOUTH AFRICA and of course MIAMI, as well as ROAD TO ULTRA® events in BOLIVIA, CHILE, COLOMBIA, JAPAN, KOREA, MACAU, PARAGUAY, PERU, THE PHILIPPINES, PUERTO RICO, SINGAPORE, TAIWAN, THAILAND and the USA. Each new global edition has been founded on the same successful recipe that has been perfected over eighteen years in Miami, combining the most diverse electronic talent with the most technologically advanced, large-scale festival productions in the world.
The ULTRA brands have pioneered the live stream experience with 'ULTRA LIVE' (bringing the festival online to over 20 million unique viewers globally) and the audio broadcasting platform 'UMF RADIO' (syndicated to FM Radio in over 62 countries and reaching more than 22 million listeners weekly). Also UMF FILMS' collaboration with FINAL KID has seen some of the most visually breathtaking festival aftermovies in the music space, including a feature-length documentary exploring the explosion of dance music, entitled CAN U FEEL IT™, which was premiered on the red carpet at the Klipsch Amphitheater in Miami in 2012 and was exhibited in over 500 theaters across the Unites States.
2016 will see the ULTRA and ULTRA WORLDWIDE™ brands continue to push the boundaries even further, bringing an unparalleled combination of cutting edge productions and the world's best electronic acts back to previous strongholds and new frontiers across the globe. With a brand new edition of ULTRA Brasil® confirmed to take place in Rio de Janeiro on October 14-15, 2016, ULTRA Singapore™ becoming a full scale two-day festival on September 10-11 and with ROAD TO ULTRA® entering Hong Kong later this year, the ULTRA brand has now united TWENTY COUNTRIES across FIVE CONTINENTS worldwide.