ULTRA Europe unveils set times, #ULTRALIVE stream, and venue map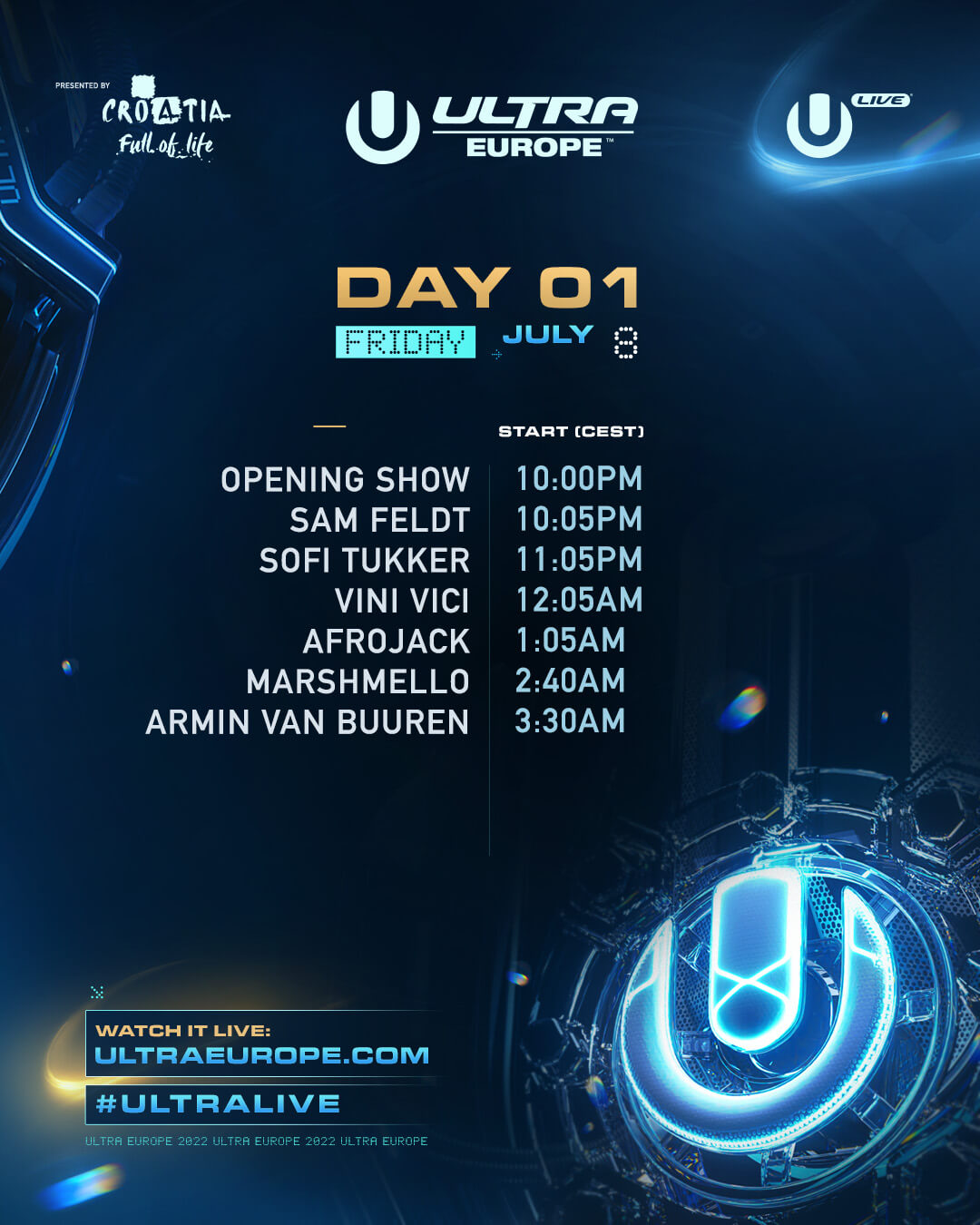 The festival also revealed new fashion collections, and a 'Respect & Enjoy' message from Split to all Ultranauts
Tune into #ULTRALIVE at ultraeurope.com
Europe's premier destination festival ULTRA Europe is about to kick off, taking place Friday, July 8 – Sunday, July 10 at Park Mladezi Stadium in Split, Croatia.
ULTRA Europe has announced festival details like set times and venue map. #ULTRALIVE stream schedule will be announced each day via ULTRA Europe's Instagram, so check back for the latest updates.
The festival has also unveiled new ULTRA Europe and RESISTANCE fashion collections, produced entirely in Croatia, which can be purchased onsite at ULTRA Merchandise Booths, as well as throughout Split's West Coast.
ULTRA Europe has an important message to all attendees – "This is Split, a UNESCO site, respect and enjoy!" The beautiful city of Split is a protected UNESCO site, so it is important that all visitors respect its citizens and preserve its cultural monuments.
#ULTRALIVE will feature a plethora of performances from multiple stages throughout the weekend, in addition to exclusive curated content like artist and fan interviews.
F.A.Q.
What do you need to know before coming to Park Mladeži?
The main entrance for visitors is located along Ulica Hrvatske mornarica, and the new spacious location will enable faster flow, less crowding, and the best possible security measures. VIP ticket holders will enjoy a special entrance and access to the lodges located on four floors, next to the Joker shopping center.
The organizers are especially proud of the magnificent main stage. This marvelous giant is 20 meters high and 80 meters long, with more than 500 square meters of LED screens. One of the trademarks of the festival is the 360 fireworks display, which will be even more spectacular than ever before.
The official website www.ultraeurope.com details all permitted and prohibited things on the festival grounds. In order to make entry into the stadium as simple and quick as possible, and to ensure the highest level of safety for all visitors, bags must be plastic, transparent and no larger than 33×43 cm. Small clutch bags, purses and waist bags will be allowed. Professional photo and video cameras are prohibited, but attendees can bring GoPros and other action cameras. Any type of incendiary agents, sprays, alcoholic beverages and food, lasers, larger chains, water guns, face masks, as well as any type of illegal substances, are strictly prohibited on the festival grounds. For easier navigation, visitors are presented with a map of the festival, with all the most important information and sales locations.
In addition to the stellar lineup and incredible production, one of the most recognizable aspects of ULTRA Europe is the range of creative fashion that attendees sport. Visitors from more than 140 countries around the world make the Park Mladezi stadium a diverse mix of cultures and personal style. ULTRA Europe has become a unique music and fashion playground that promotes inclusivity, creativity and authenticity, and this year the festival also presents an entire ULTRA Europe fashion colluection. The entire textile collection is produced in Croatia, from certified materials and in certified production, and will be available for purchase on the West Coast in Split from July 5 to 12, in the camp in Omiš from July 7 to 12, and at several locations within the Park Mladezi stadium.