ULTRA Japan unveils Daily Stage Programming and announces RESISTANCE Tokyo headliners

Festival headliners include Afrojack, KSHMR, Martin Garrix, Nicky Romero, Oliver Heldens, Timmy Trumpet and Zedd
Tokyo, September 17-18, 2022
Tokyo Odaiba Ultra Park II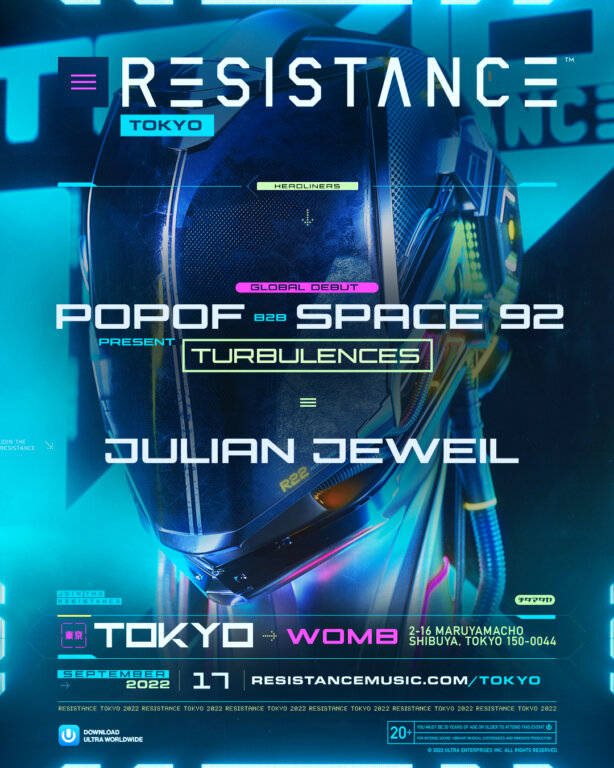 RESISTANCE Tokyo will host the world debut of 'POPOF B2B Space 92 present: Turbulences,' as well as a co-headlining set by Julian Jeweil
Saturday, September 17, 2022 at Womb Tokyo
ULTRA Japan has unveiled Daily Stage Programming for its seventh annual edition, returning to Tokyo Odaiba Ultra Park II from Saturday, September 17 – Sunday, September 18, 2022.
On Saturday, the Main Stage will be closed out by three-time consecutive winner of DJ Mag's Top 100 rankings Martin Garrix, preceded by stadium-smashing performances from Dharma Worldwide boss and DJ-producer-songwriter KSHMR, Australian multi-platinum live-instrumentalist Timmy Trumpet, and ULTRA veteran MYKRIS. Sunday's Main Stage closing performance will be provided by GRAMMY-winning act Zedd, who will follow high-octane sets by multi-award winning and platinum-record-selling artist Afrojack, future house vanguard Oliver Heldens, and beloved Dutch production virtuoso Nicky Romero.
The ULTRAPark Stage will welcome a variety of bubbling regional talent. Saturday night will conclude with highly-acclaimed techno DJ AHREUM, following sets from artists like Yohji Igarashi, TREKKIE TRAX, Teddy Doox, WAGS, Sloppy Disk (TJO&KM), WILD PARTY, MATZ feat. NIJISANJI EN, Triple D, HiRAPARK, MIYUU& KOTOHA, YOSEEK, and DJ YAGI. The exploding energy will continue into Sunday with closing act US∀Y, who will follow performances by Allen Mock B2B Herbalistek, DJ Shimamura, YOSA & TAAR, DJ KOMORI, AVADOX, Norii, DJ YU-KI, IIMORI MASAYOSHI, WATANABE SISTERS, GOLDMAN FOX, AKIRA & BANK, and MAMOT.
After the festival ends on Saturday, Ultra's award-winning techno and house music concept RESISTANCE will once again take over Womb Tokyo for another impressive edition of RESISTANCE Tokyo. The world-class, four-floor nightclubwill host the world debut of 'POPOF B2B Space 92 present: Turbulences,' who will be co-headlining with Beatport chart-topping regular Julian Jeweil. Tickets on sale now
The widely-recognized French techno acts have performed together a handful of times, but RESISTANCE Tokyo will mark the inaugural performance of their new collaborative project, Turbulences. The pair's recent collaboration "Control" with UMEK ranked #1 track on Beatport's Techno Chart, and has received millions of streams across platforms. Transporting the sounds of the French underground to Tokyo's elite nightclub, this back-to-back performance will offer attendees a once-in-a-lifetime experience and cement history as they pivot into their newly-minted joint effort.
Stay tuned for more announcements by following ULTRA Japan on Instagram, Facebook, and Twitter.
Media applications can be found at https://umfworldwide.com/media-application/
ULTRA JAPAN DAILY STAGE PROGRAMMING
Saturday, September 17
Main Stage
Martin Garrix
KSHMR
Timmy Trumpet
MYKRIS
TJO
DJ YAKSA
Ares Carter
CARTOON + YELLOCK
SHAPE8
ULTRA Park Stage
AHREUM
Yohji Igarashi
TREKKIE TRAX
Triple D
WAGS
Sloppy Disk (TJO&KM)
WILD PARTY
MATZ feat. NIJISANJI EN
Teddy Doox
HiRAPARK
MIYUU & KOTOHA
YOSEEK
DJ YAGI
Sunday, September 18
Main Stage
Zedd
Afrojack
Oliver Heldens
Nicky Romero
DJ TORA
SATOSHI
2Wasted
DJ KEIKO
ampm
ULTRA Park Stage
US∀Y
Allen Mock B2B Herbalistek
DJ Shimamura
YOSA & TAAR
DJ KOMORI
AVADOX
Norii
DJ YU-KI
IIMORI MASAYOSHI
WATANABE SISTERS
GOLDMAN FOX
AKIRA & BANK
MAMOT